Fontvieille is a modern district in Monaco, created through land reclamation. It features contemporary architecture, residential areas, a harbor, and various amenities, including the Stade Louis II sports complex and the Princess Grace Rose Garden. It's a vibrant area that provides a contrast to Monaco's historic city center.
The Beginning of Fontvieille

Prince Rainier III, often referred to as the visionary "Builder Prince" undertook an ambitious project in the creation of Fontvieille, a sprawling development spanning approximately 33 hectares. This impressive venture gave rise to a modern residential enclave that beautifully encircles a charming harbor. Over time, this area witnessed the establishment of a diverse range of establishments, including restaurants and showrooms, lining the picturesque quays.
Within a meticulously designed and lushly landscaped park, the Princess Grace Roses Garden was unveiled, adding a touch of natural beauty to the burgeoning Fontvieille Village. In 1985, the iconic Stadium Louis II made its grand debut, marking a significant milestone in the development of this thriving community. On the opposite end of Fontvieille, one can find a vibrant commercial hub comprising offices, factories, and, in due course, a bustling Shopping Center teeming with a plethora of chic boutiques.
Among the many notable features of Fontvieille is its convenient Helipad, facilitating rapid travel to key destinations. This modern transportation hub allows for swift access to Nice Airport in a mere 7 minutes and Saint Tropez in less than 25 minutes, further enhancing the accessibility and allure of this remarkable district.
Fontvieille Today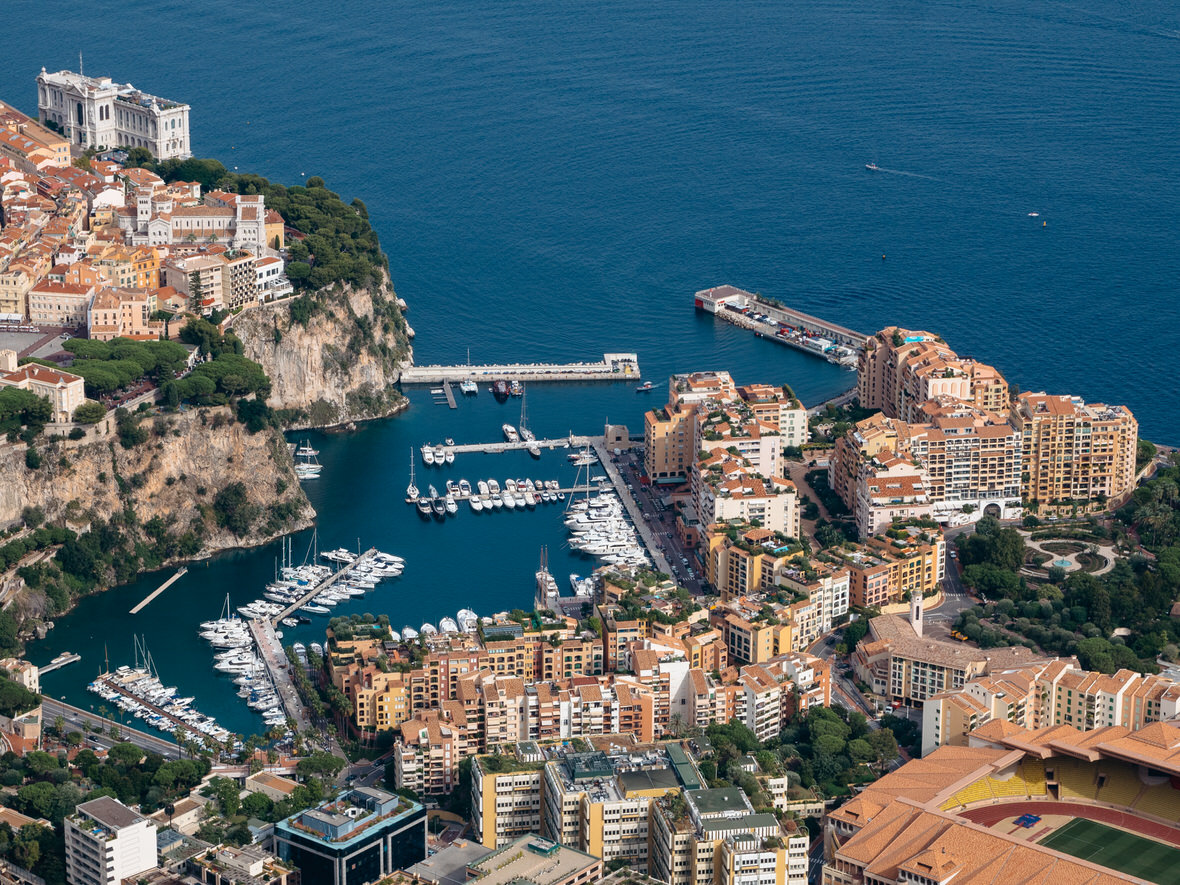 Today, Fontvieille, a district within the Principality of Monaco, has evolved into one of the most charming and pedestrian-friendly areas. It is perfect for leisurely family strolls, and its accessibility to the Marquet Beaches, just a stone's throw away, adds to its allure. Fontvieille boasts a sprawling park with scenic ponds where animals enjoy a semblance of freedom, alongside well-equipped playgrounds for children to explore.
One of the district's annual highlights is the Monte Carlo International Circus Festival, hosted within the confines of a grand Big Top in the park during the winter season. This is just one of the many events that grace Fontvieille's calendar. The Salon de la Gastronomie showcases culinary delights, while exhibitions offer a glimpse into art and culture. The No Finish Line event, a significant philanthropic initiative, garners vital funds for the Children and Future association, dedicated to advocating for the rights of children worldwide.
Along the delightful sea walls of the Port, one can admire the splendid facades of the Princes' Palace, the Cathedral, and the Oceanographic Museum, creating a captivating backdrop. Fontvieille's strategic location facilitates easy access to the bustling Port and the traditional charm of the Provencal market in the Condamine, thanks to a network of well-maintained public lifts and comprehensive urban transportation options that seamlessly connect Fontvieille with the rest of the city.
Real Estate in Monaco
Fontvieille is characterized by two distinct residential zones, each offering a unique living experience. The first zone, known as Fontvieille Village, is a haven of tranquility and beauty. It features a charmingly landscaped park, complete with inviting pedestrian pathways that lead not only to state-owned buildings but also to exclusive private residences such as Paradise, Eden Star, and Monte Marina. Nestled in the heart of this idyllic garden, residents of these complexes can enjoy a delightful swimming pool offering stunning vistas of the Mediterranean, adding to the allure of the neighborhood.
Conversely, on the opposite side of Fontvieille, you'll find a collection of luxurious residences gracing the Avenue des Ligures and the Avenue des Guelfes. These architectural marvels include notable buildings like Palazzo Leonardo, Seaside Plaza, Terrasses du Port, and the Memmo Center, each offering a distinctive and opulent living experience. Our esteemed property agency, Monte Carlo Sotheby's International Realty, is delighted to present an exclusive selection of Monaco apartments available for sale and rent within the Fontvieille district, ensuring that you can find the perfect residence to suit your preferences in this vibrant locale.
Baldo Realty Group, a real estate agency in Monaco, offers a selection of apartments for sale and for rent in Fontvieille. Contact us to find your dream Penthouse in Monaco!